Elementary Religious Ed. Classes
… are for Kindergarten through 6th grade and are offered:
Sundays | 8:45am – 10:15am (Starts on Sept 19)
Wednesdays | 5:30pm – 7:00pm (Starts on Sept 15)
Updates + Announcements
Kindergarten Classes are NEW this year + offered during regular RE class times!
Those desiring 1st Communion must register for formation classes
There will NOT be a preschool option during 10:30am Mass this year
Elementary Faith Formation Calendar 2021-2022
Coming soon!
First Communion & Reconciliation
1st Communion Preparation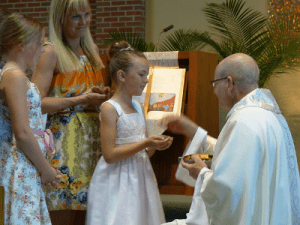 Preparation for the Sacraments of First Communion and Reconciliation usually take place in our second-grade Faith Formation classes. Families with older children who would like to prepare for the Sacraments are welcome as well. Please contact the Formation Office for more information.
The Sacrament Preparation process at St. Pius X Parish includes four primary areas:
Faith Formation Programs
Family Retreats
Parent's Faith Growth
Follow-Up and Continued Support at Home
First Reconciliation service takes place during the Lenten Season, and the First Communions Mass is held during the Easter Season.
First-Communion-Preparation-Information (PDF)
---
Sacraments Retreats 2021/2022
The three Sacraments retreats aim at both preparing the children to receive the Sacraments but also at preparing the parents to guide children during this journey. The retreats typically begin with a pot luck lunch. The retreat dates are as follows:
Sunday, October 10, 2021
Sunday, February 6, 2022
Sunday, March 13, 2022
*First Reconciliation service February 15, 2022 at 6:30pm