The Sacrament of Baptism is first of the three Sacraments of Initiation and welcomes one into the Body of Christ. Water is the central symbol of this Sacrament and the pouring of the water over the person is a ritual action that signifies and affects the forgiveness of sins and initiation into the Christian community.
Through the waters of Baptism, we become a new creation. We experience new life with Christ and new membership in the Church. It is within this new environment, our Church community that we can strive to follow the example of Jesus in our lives. The Sacrament of Baptism is received only once in a lifetime.
Infants are baptized with the expectation that their parents will raise them in the faith. Older children and adults are baptized as part of the Rite of Christian Initiation of Adults.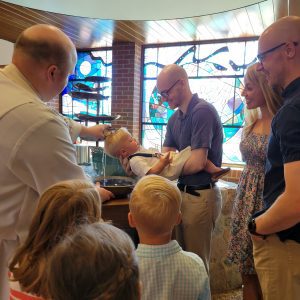 Parents seeking to have their infant or child baptized need to attend a Baptism Preparation class prior to their child's baptism. Classes are interactive and give parents an opportunity to learn about the Sacrament of Baptism, reflect on the role faith has played in their lives, and the role they want faith to play in their children's lives moving forward.
Classes typically are a little over an hour and scheduled near parish baptism dates. To find out when the next class is, or to sign up for a class, contact the parish office.
For St. Pius X Baptism Dates and Class Times
Please call the Parish Office at 532-9344.
Children ages 7 and older seeking Baptism participate in Faith Formation programs with their peers as well as Baptism preparation with parish teachers.
Contact:
Elizabeth Post, Staff
616.538.2600 x122
Adults can seek Baptism through the Rite of Christian Initiation for Adults (RCIA).  Participants in the RCIA process learn what it means to be a Catholic Christian disciple in the world today.
This is a journey of classes, discernment, and growth in relationship with God and others that helps to prepare and foster growth within those individuals seeking to be fully initiated into the Church.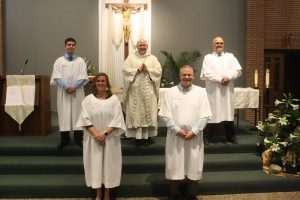 Upon completion of RCIA, during the Easter Vigil, adults seeking to be baptized are fully initiated into the Catholic Church and receive the sacraments of Baptism, Confirmation and Eucharist.
Contact:
Rosemary Beahan, Staff
616.532.9344 x106