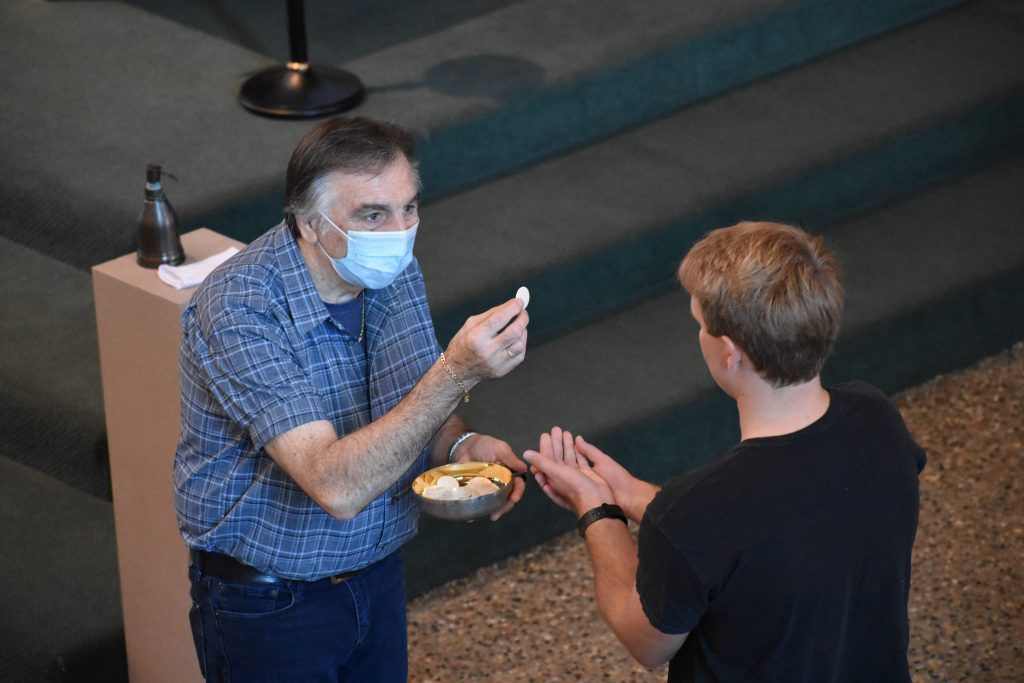 Eucharist is one of the three Sacraments of Initiation. It is also called Holy Communion. Here it is understood as the Eucharist received where as the Mass is the Eucharist celebrated. We receive the Body and Blood of Jesus Christ under the appearance of bread and wine. As we eat His Body and drink His Blood we become what we eat, more and more like Christ. Sharing in the Eucharist is a sign of our unity as Catholic Christians.
Unlike the other Sacraments of Initiation which we can only receive once in a lifetime, we may receive Eucharist as often as once a day. We are encouraged to receive Communion regularly so that we can continually be renewed and nourished spiritually. Just as we feed our bodies to stay healthy so we should feed our spirits.
---
1st Communion Preparation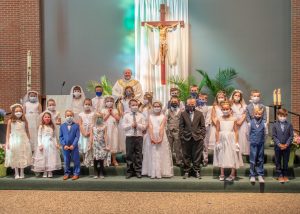 Contact:
Elizabeth Post, Staff
616.538.2600 x122
Preparation for the Sacraments of Reconciliation and First Communion is a two year process beginning in first grade. Students receive the Sacraments toward the end of their second grade year. We work with each family to ensure that their child is ready for such an important step in their faith journey, including those who missed preparation in first grade, those who are older, and those not yet baptized.
Please contact the Formation Office for more information.
The Sacrament Preparation process at St. Pius X Parish includes four primary areas:
Faith Formation
Required Parent/Child Retreats (second grade and above)
Parent's Faith Growth
Continued Support at Home
First Reconciliation service takes place during the Lenten Season, and the First Communion Mass is held during the Easter Season.
Blessed Video Series by Dynamic Catholic
We are asking all families to watch "Blessed First Reconciliation" and "Blessed First Communion" with your children. Click the button below to access the videos.
Sacraments Retreats 2023/2024
The following events are required (second grade and above). You will receive more details about retreats and events throughout the year.
Wed. Sept. 20; 5:45pm OR Sun. Sept. 24; 10:00am – First Communion Parent Meeting
Sunday, October 15, 2023 – Sacrament Retreat
Sunday, January 28, 2024 – Reconciliation Retreat
Tuesday, February 20, 2024 – First Reconciliation Service
Sunday, March 10, 2024 – Communion Retreat
Wed. April 10, 2024 OR Sun. April 14, 2024 – In-Class Real Presence Retreat
Sunday, May 5, 2024 – First Communion Mass
Sat. May 11, 2023 OR Sun. May 12 – May Crowning at Mass