Congrats First Communicants and Confirmandi
---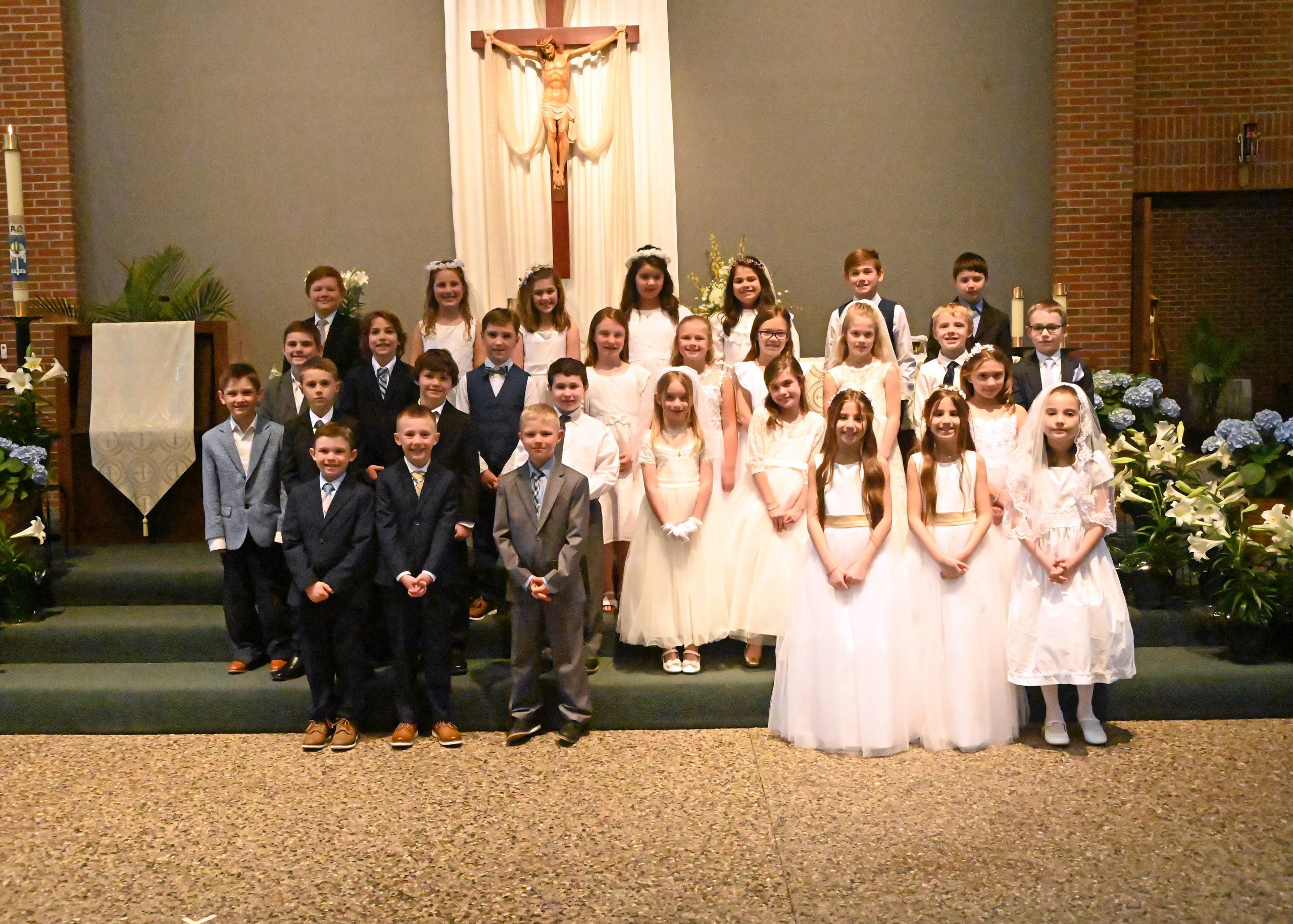 Dear Brothers and Sisters,
Congratulations First Communicants!
Last Sunday, our young people celebrated their First Communion. It is such a joy to watch our young children receive the Eucharist for the first time. As we reflect on their joy and gratitude at sharing in the Eucharist with all of us, I encourage each parishioner to remember how the Eucharist truly is a great gift.  Remember, we cannot give that which we do not have. The Eucharist is the place we go to allow God to fill us with his life and grace. This empowers us to bring God's life and grace into our world.  Jesus came so that we might have life and have it abundantly. I want to thank Glenda Trytko for her love for the faith and sharing it with our young people.  Her energy and love for Jesus is contagious and she has passed that on to these kids.  God is good.
Congratulations to our Confirmandi
On Wednesday, our eighth grade teenagers will receive the Sacrament of Confirmation. This will be at the Cathedral of St. Andrew with Bishop Walkowiak. Confirmation is a wonderful sacrament that infuses us with the Holy Spirit. This empowers us to be authentic witnesses of Jesus. After the Resurrection, the apostles initially decide to hide in the upper room. They are afraid of death after watching Jesus die. Then Jesus appears to them, breathes on them the Holy Spirit and says, "As the Father has sent me, So I send you" (John 20:19-23). Then we hear in the book of Acts how they boldly proclaimed Christ without fear of persecution or death. This is what Confirmation should do for us all.  Fill us with the Holy Spirit that we boldly proclaim Christ to our world that needs him.  I pray that these teenagers are filled with Holy Spirit, choose to follow him in their lives, and help others come to faith in Jesus as well. Thank you Elizabeth Post, and to the EDGE leaders, for boldly sharing God's love and joy with our Confirmandi!
My Last Seminary Visit
I will make a brief visit to Minnesota. I'll be away Monday May 2and return in the afternoon on Wednesday May 4; returning in time for Confirmation that evening. Please pray that there are no delays so that I can be present for the Confirmation of our young people at the Cathedral of St. Andrew.