Thirteenth Sunday in Ordinary Time
---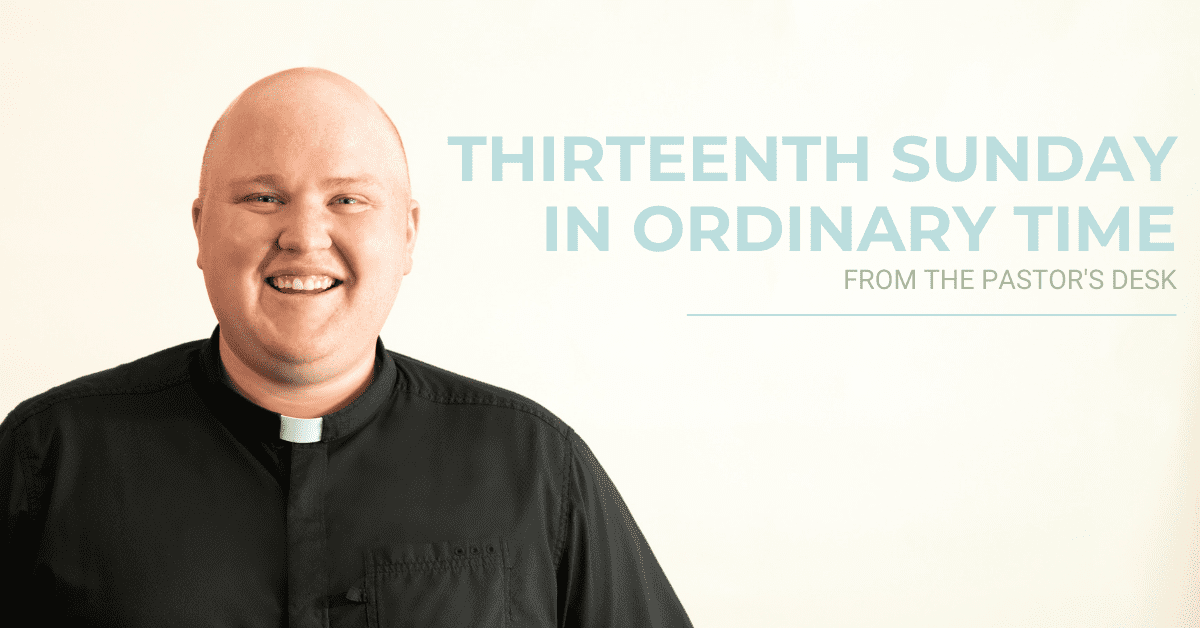 Dear Brothers and Sisters,
Missionary Priest
The Society of African Missions, a.k.a. SMA Fathers, is a missionary congregation founded in 1856 in France by Bishop Melchior de Marion Brésillac. It has over 900 priests from all over the world, with a good number of them coming from the United States. Their main mission is to work with the people of Africa and the people of African origin… to respond to the Call of Jesus "Go, therefore, and make disciples of all Nations."
The SMA missionaries are still engaged in primary evangelization, i.e., where the Word of God is proclaimed to those who do not know Christ…like in some areas in Africa where there are no roads and basic needs like water, food, and education is lacking. Jesus not only proclaimed the Good News of God's Kingdom, He also fed the hungry. Aside from bringing people the Good News, the missionaries in these areas provide basic amenities like water, education, and health as well. Aside from Christianity, there are many different religions in Africa. As part of living together, interreligious dialogue is crucial. In Nigeria, for example, the SMA missionaries are actively engaged in interreligious dialogue with Muslims, traditional African religious groups, and other Christians of other denominations.
The weekend of July 9-10, Father Dermot Roache, SMA, will be at St. Pius X for a missions appeal to help the SMA missionaries. The Diocese of Grand Rapids takes the call to help our brothers and sisters in other countries very seriously. Parishes are asked to support on a bi-annual basis, a missionary by receiving the missionary priest and taking a second collection to support the mission. Please consider supporting the great work of the SMA Fathers.
Great Aunt Rita
Five years ago, I was ordained to the priesthood and it remains hard to believe. Last week, I learned that my Great-Aunt Rita had gone to the Lord. As I sat down with my Great-Uncle Rich and his children, they shared stories about my aunt from my ordination. We had saved her a seat in one of the front pews of the cathedral, and she felt that was too close for her, "surely, there are other people more deserving of this seat" she said. After my ordination, she told her husband and children, "Fr. Stephen is so holy." Hearing this, I laughed out loud, which felt sort of inappropriate as we planned her funeral Mass. I said immediately, I am not holy, but I am striving for it.
I do think, however, that my Aunt Rita was holy. She was humble and never the center of attention. It was her goal to make others happy and comfortable. She was unassuming. She was simple, not in a negative way, simple in the "God is all I need" way. As I write about her for this bulletin, I am truly humbled to be able to celebrate her funeral Mass. This was a woman who loved God, loved her faith, and loved her family. I'm sure and certainly hope she is with God now. But I will miss that quiet, gentle, unassuming, and joyful face. God bless you Aunt Rita; please pray that I may grow in holiness and love of God that you saw in me five years ago. I hope to imitate your example.
May Aunt Rita and all the souls of the faithful departed rest in peace.
In Christ's love and friendship,
Fr. Stephen