Thank you!
---
Thank you.
Thank you for the vibrancy that you bring to this parish! You are the Real People that, with the Real Presence of Jesus, give this parish its Real Purpose.
Highlighted below are just a few ways that this parish has spread the love of Jesus to each other and to the wider community this Advent season. There are SO many people who volunteer their time through serving as liturgical ministers, creating beautiful music, livestreaming, teaching our youth, bringing communion to the homebound, knitting prayer shawls to comfort the grieving, praying for our community through our prayer chain, and so many more. Even if you are not involved in a specific ministry, we thank you for the unique beauty that you bring as you participate in Mass and pray with us.
SPX is grateful for you!
May God bless you in the New Year as we journey toward Heaven together.
Giving Tree Success!

We had over 590 tags on the tree this year and ALL were taken by our wonderful parishioners.
Thank YOU for sharing the love of Christ to local families and charities for Christmas this year!
And thank you to our volunteers who helped wrap gifts!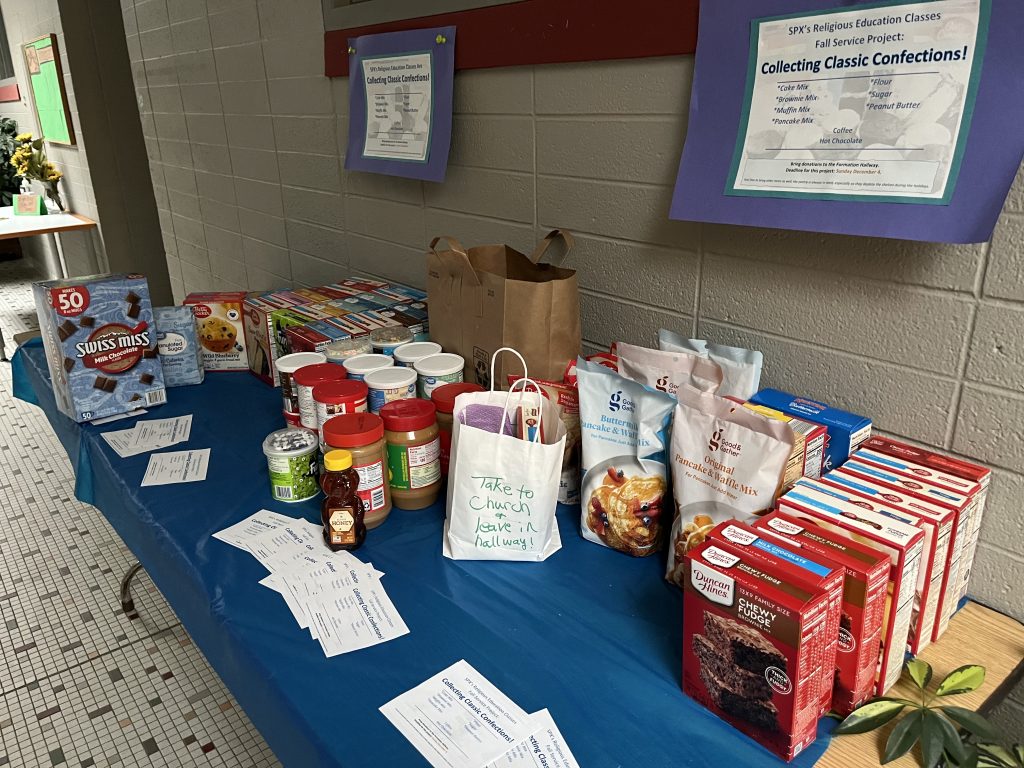 Classic Confections Drive
This year, our Elementary Faith Formation students & families collected Classic Confections, including brownie mix, cake mix, hot chocolate, and more for the SPX food pantry!
Over 140 items were donated! Wow!
If you are interested in donating to the food pantry, you can find a list of needs at the wooden food donation box in the Church or in the Old Convent.
Environment Team
Thank you to all who helped decorate our church for Christmas! They had to adapt to the big snowstorm in order to get all of the decorations up on time. Thank you for assisting us in worshipping God through the beauty of our church.
Nativity Program
Click here to see the children singing happy birthday to Fr. Stephen.